Books by Jeff Thredgold
econAmerica
While recovering from serious recession, understanding today's economy is more important than ever before. In econAmerica, Jeff Thredgold looks at the next 20 to 30 years and offers a clear picture of how the American economy is really performing and what that means for the future of your finances.
Taking you step by step through the complex maze of the U.S. economy, Jeff shares his optimism, a few concerns, and how you can use this information to enhance your financial well-being. Most importantly, econAmerica explains in detail the four key factors, or Silver Bullets, that will drive the American economy for years to come.
"In this insightful and practical book, Jeff Thredgold proves that 'interesting economist' isn't an oxymoron. Jeff takes the mystery out of economics and makes it easy to understand. If you want to know what's really going on in the American economy and the impact it has on your quality of living, read this book."
—Mark Sanborn, speaker and bestselling author of The Fred Factor and You Don't Need a Title to Be a Leader
ISBN 978-0-470-09698-7
Published by Wiley & Sons, $24.95 Retail $14.97 (40% off!) (Quantity discounts are also available)
• Free shipping on orders over $29


On The One Hand...
The Economist's Joke Book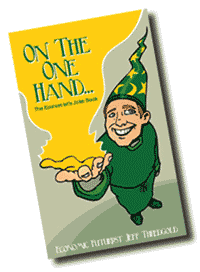 On the One Hand... is a collection of jokes I have compiled over my 30+ years in the profession. Names, dates, and raw language have been changed to protect the innocent.
Also included are some of the less insightful quotes of the past few generations. While these people were not economists, they showed real potential.
As an economic futurist and professional speaker, I have found that using humor when speaking and writing makes economics more tolerable. Having some fun with the dismal science is what this book is all about. I hope you enjoy it…and pass it along to a friend.
ISBN 978-0-9707226-1-3
$8.50 Retail $7.95 (Quantity discounts are available)
• Free shipping on orders over $29

A Parent's Letter to My Children in School
New illustrated edition with practical and timely advice about school, learning, and life. Seventeen years ago, we published this letter as "A Father's Letter to My Children in School" and the response was amazing. We had dozens of requests for permission to reprint more than 150,000 copies.
Due to the strong demand for this piece, we published it first as a soft-cover book, then added illustrations in this latest edition.
The book can be personalized. The opening page says "Dear" and leaves space for the recipient's name. The final page says "Love," and then is left blank to be signed by the giver, typically a parent or grandparent.
ISBN 978-0-9707226-2-1
$8.95 Retail $8.25 (Quantity discounts are available)

• Free shipping on orders over $29